Building, Work / 19 April, 2021
April 19, 2021
Sydney is well and truly coming back alive! With restrictions easing to almost pre-covid times, it's time to get out and enjoy all that the city has to offer.
Substation 164 is situated in the buzzing precinct between Town Hall and Wynyard, one of the few parts of the city that retains a lot of it's heritage in the buildings and streets. With the help of the City of Sydney and the NSW Government, local businesses are joining forces to inspire visitors to safely return and help revitalise the economy.
Meet YCK Laneways, a dining and cultural precinct that is wanting to help put the precinct on the map. 10 of the small bar owners in the area are banding together to help drive footfall back into the CBD when it's needed most.
Starting in April and running for 6 weeks, the venues and streets around York Street, Clarence Street and King Street will become event spaces celebrating culture and good times. Head here for more information.
For all leasing enquiries or more information, please contact us here.
Building, Work / 17 March, 2021
Mar 17, 2021
After sitting unused for two decades, two historic Sydney buildings have been given new life – coming together to form Sydney's most innovative office tower and setting the benchmark for heritage buildings of the future.
"It's about going beyond the obvious box extension to create a sculptural art piece that will ensure these forgotten buildings have a new place and future purpose in our city skyline," said Brett Mason, Managing Director of Built.
The direction for each building was informed by each ones' unique character. The open warehouse character remains, and the robust industrial imagery and dramatic expression of the Machine Hall is celebrated as new life is breathed in.
The Machine Hall is a space that captures the imagination. Its industrial aesthetic and 12-metre high ceilings provide an opportunity to create a world-class cultural retail destination across circa 600 sqm of heritage floor space.
This space will enable the City of Sydney to host unique events and experiences to revitalise the city centre.
Here's a preview into this exciting project as we near completion.
Building, Work / 11 March, 2021
By Julie Power
Mar 10, 2021
Depending on who you ask, the SubStation No. 164 redevelopment on Sydney's Clarence Street floats like a thought bubble, a glass sculpture, a comma or a water cooler above two solid heritage buildings.
Adam Lindsay, the executive director of Sydney Living Museum and NSW State Archives, said the new seven storey curved glass building was beautiful after a hard hat tour on Sunday.
The project is expected to be finished next month. The office building is supported with a cantilever, and anchored in the old. But even if the old buildings below were demolished, the new building would stay aloft.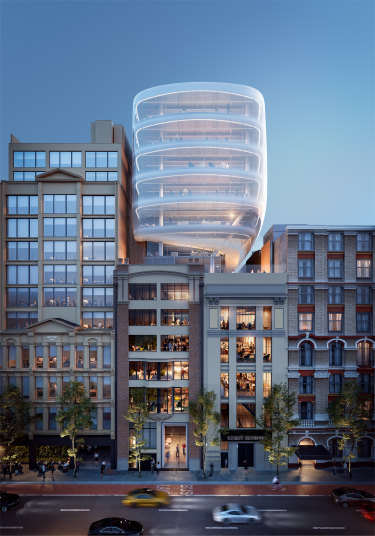 The power station and old spirit warehouse will accommodate retailers, coffee shops and cultural events.
Sydney lord mayor Clover Moore said she could see the restored power station's 12-metre-high machine hall, with its original subway tiles and massive gantry hanging, being used for events.
"Imagine Shakespeare down there," she said.
The walls of the old machine hall also feature modern circular glass viewing platforms, a nod to the new building above.
Before the band AC/DC – named for alternating current/direct current – was even a thing, SubStation No. 164 was a battlefield for the power wars.
In the early 20th century, the City of Sydney opted to use DC power, and No. 164 was one of five converters built to convert the AC power being generated at Pyrmont into DC power for the city's lights. After AC won, the lights went out at No. 164 in 1985.
Jono Cottee, the development director at construction firm Built, said many people had over the decades unsuccessfully tried to redevelop the two sites at 183-185 Clarence Street.
Adding to the difficulty was the sites have different levels, street frontages and addresses – one on Kent Street and the other on Clarence.
A winning proposal by fjmt (Francis-Jones Morehen Thorp) architecture firm proposed to restore the heritage buildings and use a giant cantilever to create one above.
Mr Cottee described it as "the anti-extension of a heritage building below rather than just building directly below".
"It deliberately floats, it's modern and it sits above, respecting the items below. The existing buildings are left raw, pared and stripped back," he said.
"There is no fake heritage."
The decision to retain the heritage facade, floors and columns would also result in a 24 per cent reduction in embodied carbon compared to conventional construction, said Clare Gallagher, the environmental manager at Built, the project's builder.
In an interview with Sydney Living Museums, she said with so much of cities already built, it was becoming rarer to work on a 'clean slate' to create a sustainable building.
The reuse of the heritage buildings and much of the internal building fabric preserved the heritage and contributed to a significant reduction in the carbon footprint of the redevelopment.
"In addition to being textural, character-filled features that are rarely seen in architecture today, if we were to replace the brickwork, steel beams, and timber floors it would create an immense environmental impact," Ms Gallagher said.
Building, Work / 17 February, 2021
Feb 17, 2021
Substation No.164 is well and truly coming to life! We are pleased to announce that both footpath hoardings have been removed, revealing the revitalised heritage facades which will now undergo cleaning.
The fit-out of the main building lobby has also commenced – with cladding panels installed and concrete polishing underway. All building lift fit-outs are now complete and the construction works on all of the extension levels have been also completed.
Final touches are underway with the commencement of the Kent Street public domain upgrades, as well as the final clean of the newest glass facade on Clarence Street.
Limited floors available! For all leasing enquiries or more information, please contact us here.
Building, Spaces / 2 November, 2020
Development Director Jono Cottee will represent Built on an industry panel entitled New Heritage, as part of the free Sydney Open 2020 online event.
Registration is free for the live-streamed talk series and weekend-long celebration of architecture with a fascinating panel discussion on how existing architecture can be transformed to adapt to the contemporary city and inspire new uses.
The panel will discuss how we can futureproof historical architecture to meet our technological and health needs? And in our desire for a greener planet, how can reimagining past designs improve our future?
Right now, in our ever-changing city, there are plans to transform Sydney's former industrial areas into dynamic new precincts, and buildings that have long stood empty are being invigorated with new life.
Many of the changes ensure that these structures not only serve new purposes but also use less energy and are more sustainable than their former incarnations. As workspace design is adapted for the post-COVID-19 environment, we are seeing radical shifts in the ways people use these buildings for work and play.
The panel brings together professionals from the fields of architecture, building, heritage and design to discuss how Sydney's unique historical architecture can be incorporated into these bold new visions and how contemporary building design can retain valuable heritage. Join in the conversation during a live Q&A.
For more details & to register visit the official website.
Building, Work / 2 November, 2020
Our commitment to creating a commercial building of the future is supported by the ability to adapt and evolve with changing market conditions.
In response to the current climate, SubStation No.164 has introduced a number of additional COVID Safe facilities to amplify safety measures and enhance the experience of tenants and visitors.
Safety and hygiene considerations at SubStation No.164 include:
Contactless amenities
Each floor has its' own bathroom facilities fitted with automatic doors and contact-free sanitary fixtures to minimise surface contact.
Access control lifts
Restricting movement between and managing permissions to each floor is an essential measure in protecting the safety of tenants and their visitors.
Front-line provisions
To be responsive to the current climate there is a provision built for temperature checking in office lobbies on each floor.
End of Trip Facilities
Consideration for an increase in employees riding to work in lieu of public transport now provides housing for up to 66 tenant and 33 visitor bikes.
Building, Work / 2 November, 2020
Built marked the topping out of their major Sydney CBD commercial development, SubStation No.164, with a ceremony attended by Lord Mayor Clover Moore, the Built Board – including new Chairman Wal King and Independent Director Dieter Adamsas – Nuveen Real Estate and project development partners.
Designed by fjmt, SubStation No.164 at 183-185 Clarence Street ambitiously revitalises two historic Sydney buildings into one of the city's most distinctive A-grade office towers with a seven-level sculptural glass extension, which sets a new benchmark for future heritage development.
Built Managing Director Brett Mason said the 7,867 sqm office tower is one of only a handful of new commercial office offerings to hit the market in late 2020 and meets the changing needs of businesses in a COVID-19 world.
"SubStation No.164 perfectly fits today's changing market demand towards boutique office buildings with businesses downsizing their floorplate requirements as more employees work remotely," Mr Mason said
"COVID-19 has shifted how we think about workplaces and what we are hearing from the market is that mid-tier businesses in tech, professional and financial services are now more interested in moving to a unique boutique tower where they can still command full floors and make a statement about their brand, rather than taking part-floors or subleasing in larger office buildings."
SubStation No.164 includes COVID-safe features such as contactless automatic doors and sanitary fixtures to bathrooms, access control lifts and provision for temperature checking in office lobbies. It will also provide expanded end-of-trip facilities for 66 tenant and 33 visitor bikes to cater to the increase in city workers taking greater precautions and choosing to walk or ride to work rather than take public transport.
Lord Mayor Clover Moore said SubStation No.164 is a great example of how heritage can be protected and incorporated in new developments.
"Our city's built history is showcased through the many eras of architecture that line our streets and 183 and 185 Clarence Street are important heritage buildings that represent our city's industrial past and this new project preserves them for years to come," Cr Moore said.
"The modern seven-story addition with interesting glass curves floating above them is a unique addition to our City's skyline that respects the heritage below. The new roof terrace will allow office workers and visitors to make the most of the beautiful Sydney climate year-round, while retail space on Kent Street will encourage people back into the city to visit new cafes, bars and restaurants.
"I'm looking forward to seeing Built and fjmt put the final touches on this ambitious project," she said.
The topping out also marked the first official engagement attended by Board Members Wal King AO and Dieter Adamsas since joining the Built Statutory Board as Chairman and Independent Director respectively.
"Built is delighted that Wal and Dieter have joined our Statutory Board," Mr Mason said. "Both bring deep knowledge and experience in strategically growing leading construction companies. The discipline and rigour they bring to our Board is an endorsement of our vision and has helped us as we take Built to the next stage both across our construction and development businesses."
SubStation No.164 was acquired on a fund through by Nuveen late in November 2018 for $180 million to seed their Asia Pacific Cities Fund. Built is the anchor tenant for SubStation No.164, pre-committing to lease four floors for its new Sydney Head Office to showcase the group's experience across development, construction and managing complex heritage sites.
The building will be completed at the end of 2020, with the first tenants able to move in at the beginning of 2021.